HEETS MARLBORO RICH REGULAR
IQOS Marlboro Rich Regular is a tobacco-based electronic cigarette that is used by experienced smokers. It is a strong tobacco taste and is similar to Marlboro Red cigarettes. Its flavors are rich, and it is recommended for experienced smokers. The cigarette provides a nicotine hit that is more than the traditional cigarette, but its taste is not as strong.
Where You Can Enjoy The Taste And Richness Of Tobacco Leaves – Marlboro Rich Regular
| | |
| --- | --- |
| Attribute | Specification |
| Name | IQOS Marlboro Rich Regular |
| Fragrance | ★★★☆☆ 3/5 |
| Richness | ★★★★★ 5/5 |
| Strength | ★★★★★ 5/5 |
| Aromatic Notes | Deeply Flavored Tobacco Flavor |
| Origin | Japan |
| Compatible with | IQOS 3 Duo, IQOS 3 Holders, IQOS 3 MULTI, IQOS 2.4 Plus |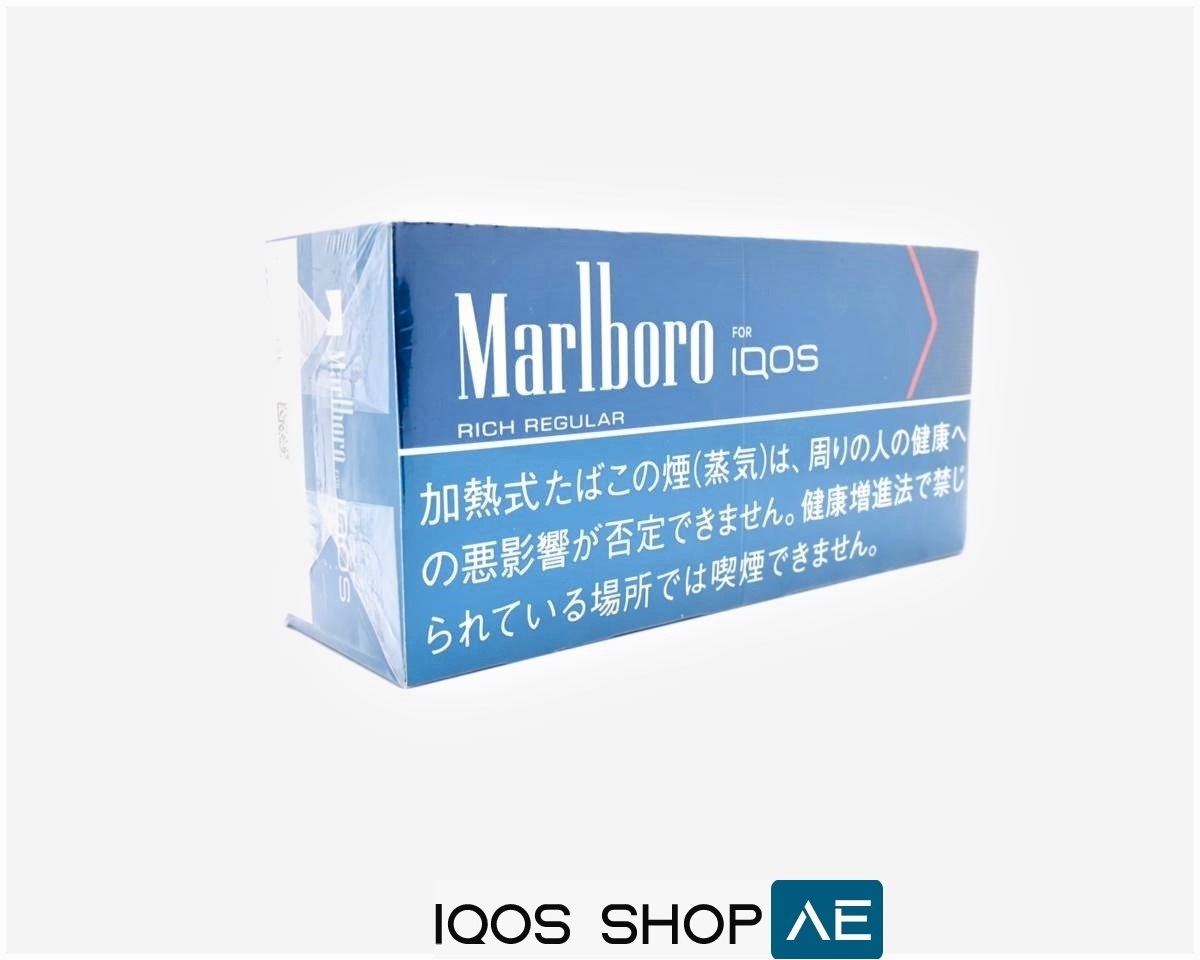 Frequently Asked Questions About IQOS Marlboro Rich Regular:
Here are answers to some frequently asked questions concerning Marlboro Rich Regular, one of IQOS's best-selling products.
1. Is Marlboro IQOS Rich Regular safe?
The Marlboro Rich Regular is not a tobacco product and is considered safe to use by the U.S. Food and Drug Administration. It is 100% tobacco-free, significantly less harmful to your health, and has a better taste.
2. How does IQOS Rich Regular work?
IQOS is a new way to smoke. It heats tobacco to produce a smokeless aerosol that can be inhaled. Unlike combustible cigarettes, the tobacco used in IQOS does not ignite. The tobacco heats up when you puff on the IQOS, releasing a vapor that you can inhale.
3. Is IQOS Rich Regular available in all UAE?
IQOS Marlboro Rich Regular is a type of cigarettes that is available in the United Arab Emirates. The product is made by Philip Morris International, which is a global tobacco company. The product is available for purchase in Dubai, Sharjah, Abu-Dhabi and many more places in UAE.
4. What are the pros and cons of using Marlboro Rich Regular?
The biggest advantage is that you don't have to worry about second-hand smoke. The biggest challenge with using IQOS is that it requires you to use the device more often. The device is also not refillable and has to be replaced after a few months.
5. What is the difference between the Rich Regular and traditional cigarettes?
The IQOS Rich Regular Marlboro Heets, which stands for "I Quit Smoking" is a cigarette that is completely different from traditional cigarettes. IQOS it uses a heat-not-burn system. There are no tars or tobacco in the IQOS. This means that it is a cigarette that is very different from traditional cigarettes.